A precious catch
7 November 1884
Early today around 1 oíclock Captain Martens (see photo) and Policeman Howard arrested on the street two suspicious fellows, big guys, who were loitering conspicuously.
As they were brought to the police station, each one simultaneously pulled a revolver from his pocket and, at first without taking any aim, began shooting at the policemen, without hitting them. The bullets went into the walls where they made big holes.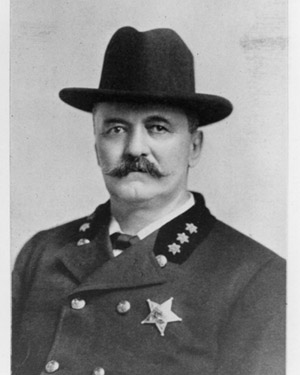 In a moment the big lugs were outmanned. They gave their names as Hamilton and Smith. Hamilton had two big revolvers in his possession and Smith, one. One also found in their possession a large number of mining stock certificates, with which these confidence men worked, as well as a sum of money.
The guys likely belong to the gang of three swindlers who have for quite some time made the railroad trains in Iowa unsafe.
According to a telegraph report, yesterday, in West Liberty near the train station a man was knocked down and robbed of $800. The street robbers used their weapons as they were chased and got away. Maybe itís the same guys that were caught earlier here.
The struggle and fight in the police station was nevertheless quite hot; for Captain Martens has a number of significant bruises and skin-abrasions to show for it.
We should congratulate our alert police on their catch.
We should congratulate our alert police on their catch.
The Arrest of a horse thief
6 March 1884
Policeman Henry Martens made a good catch yesterday. In the morning a young man between 25 to 26 years old arrived here on horseback, put his horse in Marr Gude's livery, on the corner of 2nd and Scott Street, fed it and then fed himself, i.e., he went and got breakfast. He then left with the horse under the pretense of shoeing it. Mr. Gude became suspicious of the stranger and his horse, and he shared his suspicion with Policeman Henry Martens, who then went on the lookout and quickly established that the stranger had ridden to Rock Island where he tried to sell the horse to the Mr. Carr, the owner of a horse rental livery. Henry Martens successfully recovered the horse and arrested the stranger who, imagining himself unobserved, had also in the course of the afternoon tried to sell it at Fritz Wiese's horse rental livery.
The secretive stranger was brought to police headquarters and interrogated by Chief Kessler. The stranger insisted that his name was Charles Miller and that he was the son of a well-to-do horse owner who lived in Osceola a couple of miles from Des Moines. This declaration supplied the proof that the arrested man had no idea where Osceola was and when Chief Kessler put a blank telegraph form in front of him with the request that he telegraph his "well-to-do" father and horse owner, the arrested man began to confess. He remorsefully acknowledged that his name was Charles YOUNG, he was married and he was forced to steal the horse two days ago from Collin's Livery in Muscatine because he was out of work.
The sheriff in Muscatine was immediately informed of the arrest and came last night to take the horse thief back to Muscatine.
Caught
23 October 1884
Captain Henry Martens came back late last night from Muscatine accompanied by a runaway thief whom he personally nabbed. The latter, a certain John McGovern, an approximately 38-year-old man who had worked in the Buffalo area as a farm laborer, stole $100 and absconded with a pair of boots from Marion Murray. The theft was discovered immediately and it was reported that McGovern left for Davenport. The police instituted an investigation and Mr. Martens went to the Rock Island deport where he determined that the thief had bought a ticket for Kansas City. At the same time Mr. MARTENS learned that McGovern got on the wrong train and instead of heading south, he traveled west. Martens correctly suspected that the fugitive would get off in Wilton and go to Muscatine in order to get on a southwest train. Therefore Martens took the next train to Muscatine and waited for the fugitive. The latter was captured in the waiting room and admitted that he stole the money and boots from Murray, but he insisted that instead of $100, he only stole $35. Today, the accused thief will be brought in front of Judge Richter.